The Good Cave tour in Tirana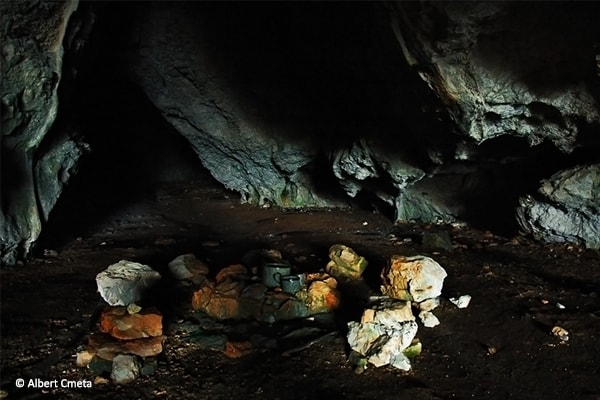 "The Good Cave" known also as "Shengjergji Cave", is located in the village of Besh-Livadh of Tirana. It is situated on Mount Brrari in its north-eastern part. The road from Tirana passes through Shtishtufina and continues through the Arber road until it passes Tujani Mountain. The 2/3 part of the road is asphalted and then continues on the rural road. The cave is positioned at a considerable altitude from the village of Besh-Livadh. It is marked with signes, but again there is difficult to find it alone. With the help of guides or residents of the area it is simpler, because there are a lot of small caves in the area that can confuse you. It is a cave with depths over 150 m and heights from 2 to 10 meters. The cave has stalactites and stalactites of different shapes and sizes. There are some types of bats sheltering in it.
According to the locals the cave has been deeper but has been damaged and becomed smaller, in its actual size. It has served and serves as a pagan place where rituals are made. It is called "good cave" because the legend says that the water that springs in it has healing and magical powers. At the entrance of the cave are placed some containers that fill up from the water that falls from above. People go there to be cured of illness and "bad eye" etc., drinking from the "good water" or washing themselves with that water. On St. George Day "Dita e Shen Gjergjit" (June 6th), residents of the surrounding area go and spend a night in the cave and make sacrifices and bake meat in the fires. People from different beliefs have their stories linked to this "good cave".  It is also a very good place for lovers of mountain climbing.
TAGS: explore Tirana, Tirana out door, The Good Cave Tirana, Caves in Tirana Albania, tours in Tirana Albania, trips in Tirana, tours in Tirana, daytrips in Tirana, Tirana tours, excursion in Tirana, explore Tirana, outdoor tours Tirana
Reference from: Visit Tirana