Souvenirs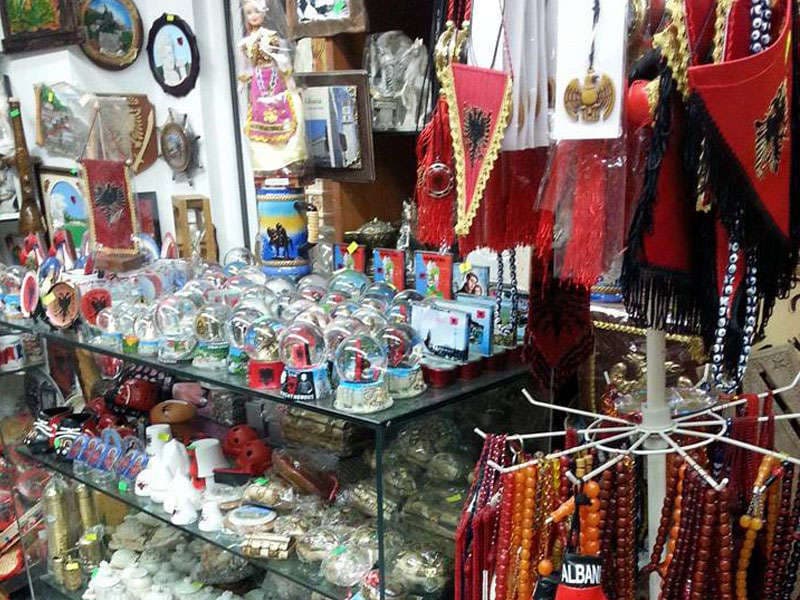 Souvenirs- Most tourists want to buy a souvenir from the country they are visiting, and Tirana will not disappoint. There are plenty of souvenirs shops in Tirana. There are some particular streets where you can find souvenirs, from Myslym Shyri Street and continuing to Çam Street, as well as the place known as 9 kateshet (9-storey building on Barrikada Street). In all these shops you will find Albanian traditional folk costumes, as well as other artisanal products. Here we suggest to you some shops for you:
TIME SOUVENIR, TRADITA SHQIPTARE
Address
Rruga Myslym Shyri, Ne Hyrje Nga 21 Dhjetori, Tirana Albania
Tel: 04 2270 858; 0693926143
Nji Mar, Nji Mrapsht. You can find handmade gifts and  accessories of all kinds
 Rruga "Kont Urani". Tirana 1000
https://www.facebook.com/NjiMarNjiMrapsht/
069 400 5542
Rreli-Erebara– Traditional folk costumes from all over Albania, as well as wood, bronze and silver souvenirs, pottery, ceramics and antiques.
Rr. Ded Gjo Luli. Tel +355 4 222 12 82
Art Forever
If you're looking for folk costumes, antique chests, wood carvings, or old books, check out this one-man show. Find it near the corner of Blv. Bajram Curri.
Rr. Vaso Pasha 99; Tel: +355 4 224 63 86
Prodhime Bakri & Filigrami
The usual tacky selection of fridge magnets and a few antiques and Communist-era bric-a-brac. Also near the Stephen Center Café.
Rr. Ibrahim Rugova, Sky Tower; Tel +355 69 20 910 07
Pirro Souvenirs
A good selection of handicrafts and souvenirs; Albanian flags, key rings, T-shirts, and must-have mugs depicting Enver Hoxha, King Zog and Mother Teresa among others.
Rr. Abdyl Frasheri  tel: +355 4 222 55 87
TAGS: Souvenirs in Tirana, Souvenirs in Albania, Shopping in Tirana, Things to do in Tirana
Reference from: Visit Tirana