Et'hem Bey Mosque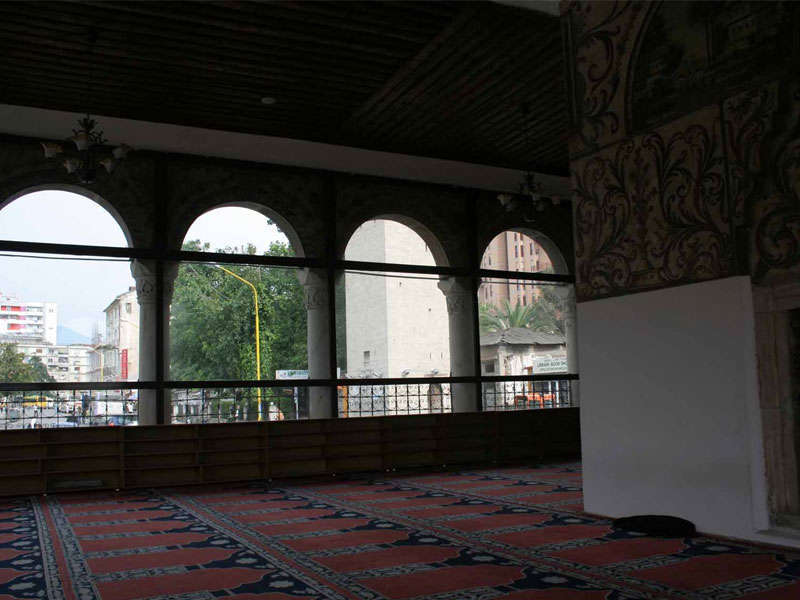 A unique mosque situated in the very heart of Tirana. The mosque, the Clock Tower, National Museum and National Theatre of Opera and Ballet from the surrounds to the famous Skanderbeg Square. Et'hem Bey Mosque was founded at the end of 18th century by Mulla Bey, with the shrine finished by his son Haxhi Et'hem Bey in the first quarter of the following century. The mosque was one of the few to be spared the destruction during which churches, mosques, tekkes, monasteries and other religious institutions were either closed or pulled down, or converted into warehouses, gymnasiums or workshops by the end of 1967. On 18th January, 1991, despite opposition from the communist authorities, 10,000 people entered carrying flags. This was at the onset of the fall of communism in Albania. The event was a milestone in the rebirth of religious freedom in the country. Visitors can see the wonderful architecture of the mosque and its exquisite decorations of wall and ceiling paintings from oriental traditions. The frescoes of the mosque depict trees, waterfalls and bridges, still life paintings that are a rarity in Islamic art.
The mosque undergone a restauration in 2019 and was finished in April 2021.
TAGS: Ethem Bey Mosque in Tirana, Monument and cultural sites in Tirana, Things to do in Tirana,.
Reference from: Visit Tirana