Arena Center & Air Albania Stadium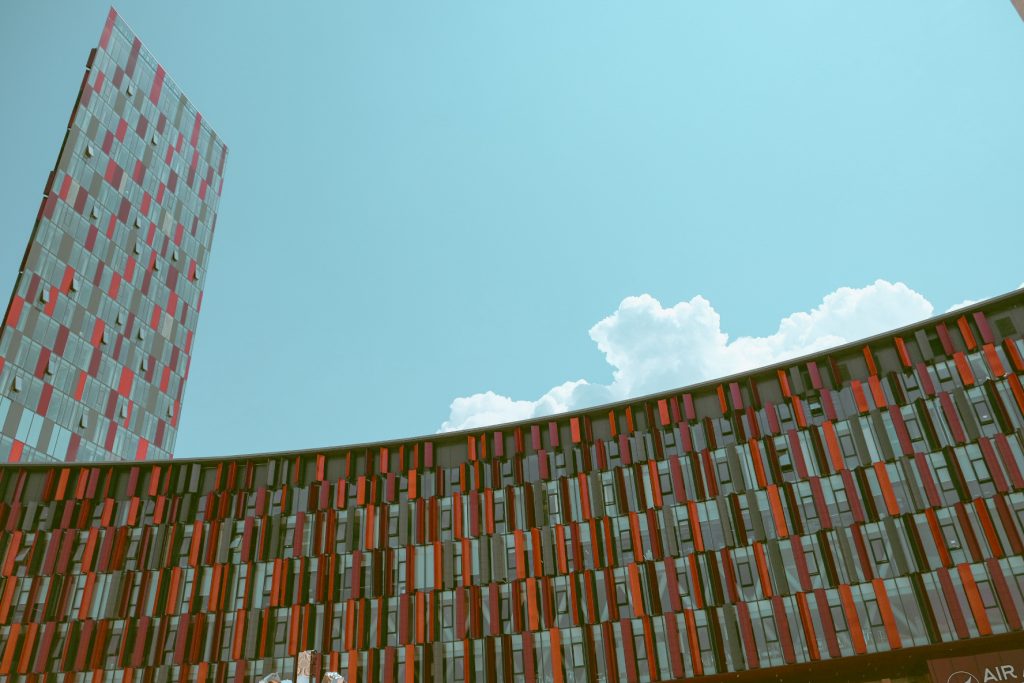 Arena Center is a new authentic and modern experience that includes everything in one place in the heart of Tirana.
It is one of the most interesting and modern buildings is Arena Center,  part of the New National Stadium Complex "Air Albania Stadium". Near Mother Teresa Square, stands Arena Center one of the tallest and most magnificent a giant red and black complex, with the colors of Albanian flag.
This area has already become the trendiest corner of Tirana, not only for the largest Albanian stadium and its history and importance, but also for the whole pleasant surrounding complex from the famous columns of the Museum building.
Air Albania Stadium
The stadium was built on the site of Qemal Stafa Stadium. The stadium with a capacity of 22,000 seats was inaugurated in November 2019 in the Albania-France match.
"Air Albania Stadium" is unique and without competition in its kind in Albania. It constitutes a modern sports complex not only with a very interesting and attractive architecture. The integration of the historic façade gives the Stadium an added value, it is conceived in the form of a Greco-Roman theater. The stadium structure is a special multi-faceted (octagonal) shape so that each side allows access to the other separate parts.
The whole building has become a reference point for all visitors, not only to watch the matches but as a fun and cultural place. On the first floor is the Museum of Albanian Football, where the history of the stadium is presented as part of the cultural and historical heritage of the city of Tirana. In this museum are illustrated with photos – videos and audio the entire history of Albanian football becoming an attractive museum and open to local and foreign visitors.
Shopping & food
Brand named chain stores, restaurants and coffee shops, offices, hotels and entertainment areas for all family members, guarantying a comfortable, pleasant and safe tour around all spaces for its visitors.
There you will find Sophie Café, Lowengrube, Yellow Mood, Grand Lounge, OPA, Italian Food & Drinks, Blooms. There you can make purchases for the house in: Asa HOME, Selection by Arjon and GoTech. Stores of well-known brands such as: Elisabeta Franchi, Hugo Boss, Marella, Enrico Marinelli, Aquamarine, Macron, Pinko etc.
In the fall of 2021, the 5-star Marriott hotel is expected to open its doors. The hotel will be on the 24 storey tower overlooking the stadium area, and will have approximately 150 rooms, SPA, conference room, fitness and casino.
Arena Center is a very important point of the Albanian capital that attracts many visitors as well as a value for businesses located there that benefit from the strategic position. There are about 10,000 m2 of space for rent for spaces for different businesses.